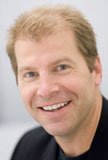 Tom Goguen
Tom Goguen has rejoined Sun as Vice President of the operating platforms group. He has overall management responsibilities for product marketing of Sun's operating platforms including Solaris, Linux, N1, and Availability Products, and has held various levels of engineering, marketing and management positions within Sun.

Between 2001 and 2004, Tom led product marketing for Apple Computer's recent move into the Server, Storage and desktop management software markets. Tom holds a Masters Degree in Electrical Engineering from the University of Ottawa and a Bachelors degree from the University of New Brunswick and is an avid hockey player.

Do you have a question for our experts?