server consolidation definition
Server consolidation is an approach to the efficient usage of computer server resources in order to reduce the total number of servers or server locations that an organization requires. The practice developed in response to the problem of server sprawl, a situation in which multiple, under-utilized servers take up more space and consume more resources than can be justified by their workload.
5 Steps Data Center Admins Can Take to Support Big Data Initiatives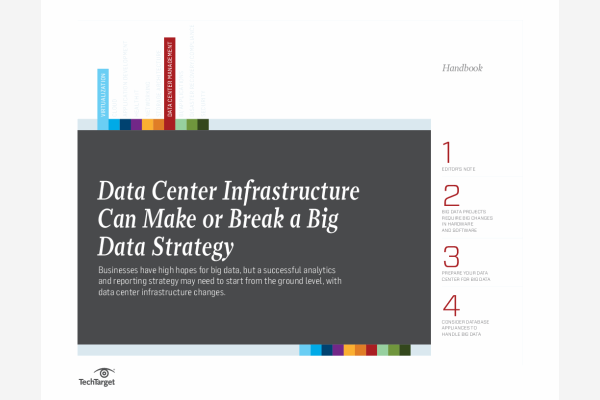 When it comes to Big Data, there is no cure-all or singular approach that allows for organizations to find value in the staggering volume of data being collected. As such, our team of editors present this guide as a means of helping you to determine how you plan on using and analyzing big data - and on selecting the appropriate infrastructure components to support those efforts.
By submitting your email address, you agree to receive emails regarding relevant topic offers from TechTarget and its partners. You can withdraw your consent at any time. Contact TechTarget at 275 Grove Street, Newton, MA.
You also agree that your personal information may be transferred and processed in the United States, and that you have read and agree to the Terms of Use and the Privacy Policy.

According to Tony Iams, Senior Analyst at D.H. Brown Associates Inc. in Port Chester, NY, servers in many companies typically run at 15-20% of their capacity, which may not be a sustainable ratio in the current economic environment. Businesses are increasingly turning to server consolidation as one means of cutting unnecessary costs and maximizing return on investment (ROI) in the data center. Of 518 respondents in a Gartner Group research study, six percent had conducted a server consolidation project, 61% were currently conducting one, and 28% were planning to do so in the immediate future.
Although consolidation can substantially increase the efficient use of server resources, it may also result in complex configurations of data, applications, and servers that can be confusing for the average user to contend with. To alleviate this problem, server virtualization may be used to mask the details of server resources from users while optimizing resource sharing. Another approach to server consolidation is the use of blade servers to maximize the efficient use of space.
Continue Reading About server consolidation
Dig Deeper on Server hardware strategy
PRO+
Content
Find more PRO+ content and other member only offers, here.