open data center definition
An open data center is an IT facility that employs a clearly defined and standardized set of hardware and software products designed to make the data center interoperable with other IT facilities. Ultimately, open data centers should be able to work together seamlessly to form a federated cloud.
5 Steps Data Center Admins Can Take to Support Big Data Initiatives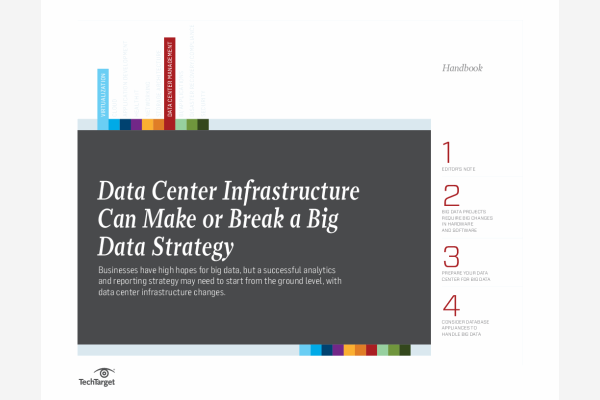 When it comes to Big Data, there is no cure-all or singular approach that allows for organizations to find value in the staggering volume of data being collected. As such, our team of editors present this guide as a means of helping you to determine how you plan on using and analyzing big data - and on selecting the appropriate infrastructure components to support those efforts.
By submitting your email address, you agree to receive emails regarding relevant topic offers from TechTarget and its partners. You can withdraw your consent at any time. Contact TechTarget at 275 Grove Street, Newton, MA.
You also agree that your personal information may be transferred and processed in the United States, and that you have read and agree to the Terms of Use and the Privacy Policy.

The need for data center standards is primarily due to interoperability concerns. Hardware and software technologies are changing rapidly, and the proliferation of disparate infrastructures often results in performance and availability challenges that are difficult (or even impossible) for organizations to overcome individually. In addition, many data centers do not fully support elastic computing, data and physical security, manageability, automation, availability and economy of scale–all of which are needed for effective cloud computing.
By establishing standards that are open and vendor-agnostic, systems and software manufacturers will have a clearer roadmap to develop open data center products with more predictable features and functionality. In turn, this should ease performance and availability problems, while effectively addressing and streamlining the various elements needed to support cloud computing.
The open data center initiative operates under the Open Data Center Alliance -- an organization of approximately 100 businesses. Formed in October 2010 and led by a steering committee of major IT consumers, such as BMW, Deutsche Bank and Lockheed Martin Corp., the alliance represents a cross section of contributors, solution providers and data center technology adopters.
The alliance is still in its infancy, but it has already charted an ambitious plan. By 2015, the alliance hopes to facilitate secure and seamless federation between cloud data centers, foster a computing marketplace with consistent features and pricing, enable simpler data centers with far more agility and much lower service costs, support the development of services and capabilities that will speed the adoption of cloud computing, and develop best practices and improve energy efficiency.
See also: Open Vault, Open Rack, TIA-942
PRO+
Content
Find more PRO+ content and other member only offers, here.