Definition
infrastructure
Infrastructure is a collection of physical or virtual resources that supports an overall IT environment: server, storage and network components.

Download this free guide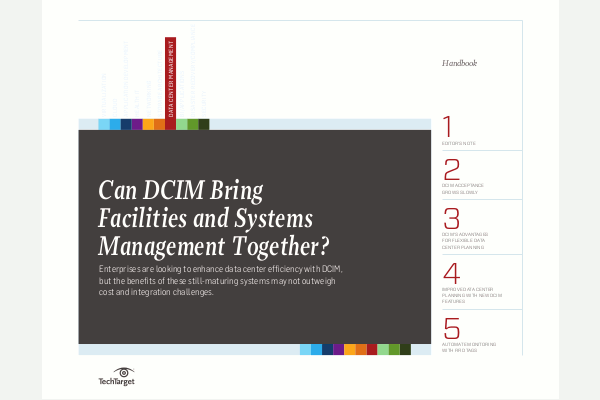 Download: Getting the Most From Data Center Infrastructure Management (DCIM)
Find out how DCIM can assist with day-to-day operations and data center planning to bring together systems and facilities management teams. Realize how connecting these teams with the right DCIM tools can streamline capacity planning and optimize data center efficiency in your organization.
By submitting your personal information, you agree that TechTarget and its partners may contact you regarding relevant content, products and special offers.
You also agree that your personal information may be transferred and processed in the United States, and that you have read and agree to the Terms of Use and the Privacy Policy.
An IT infrastructure provides a means of moving data from one place to another and acting upon it. The scale of the move ranges from locally -- from a storage device to a server for use or changes prior to returning to storage -- to client/server -- a user at an access device (PC, tablet, smartphone) pulling data from a central location.
Infrastructure may be centered within a data center, with connections to users in different environments using intelligent or dumb access devices. Some vendors provide pre-engineered blocks of compute, storage and network equipment (converged infrastructure) that optimize the IT hardware and virtualization platform into a single system that can be easily interconnected to other systems.
Infrastructure also may be spread across a mix of data centers controlled by the organization or other entities such as colocation facilities or hosting/cloud companies. Cloud computing promises a flexible IT infrastructure, where resources can be applied and removed dynamically to workloads as required across a broad collection of individual platforms. End-to-end infrastructure also may include mobile wide area networks (WAN) and other IT components.
Internet infrastructure includes transmission media, including network cables, satellites and antennas, and routers, aggregators,repeaters, and other devices that control transmission paths.
Technology infrastructure generally does not include the operating systems or software stack above the hardware. However, where public WANs or public cloud are used, such transport mechanisms, along with platform or software as a service, may be part of the overall definition of infrastructure.
Infrastructure must provide a suitable platform for all the necessary IT applications and functions for an organization or individual. Viewing IT infrastructure as a single entity makes for more effectiveness and efficiencies: Resources can be optimized for different workloads, and the impact of any changes on interrelated resources is more readily understood and handled. For example, the infrastructure manager may solve a CPU-constrained workload by increasing its server resources, but causes the workload to become I/O-constrained. A full infrastructure management scheme helps curb this domino effect.
The meaning of infrastructure is expanding all the time. The Internet of Things means that more devices are connecting to the main infrastructure. On the whole, it is better to regard monitoring and measurement devices and other point-specific items as being outside of the IT infrastructure proper.
Data center infrastructure refers to the power, cooling and building elements that create an environment for the technology infrastructure.
Continue Reading About infrastructure
PRO+
Content
Find more PRO+ content and other member only offers, here.