A grumble line is the plotted amount of light from the sky that will be available in a building once an adjacent building has been erected. In building construction in certain countries, a builder may need to recognize the legal "rights to light" of nearby building owners. Accordingly, formulas have been created for calculating the grumble line and these can be computerized.

Download this free guide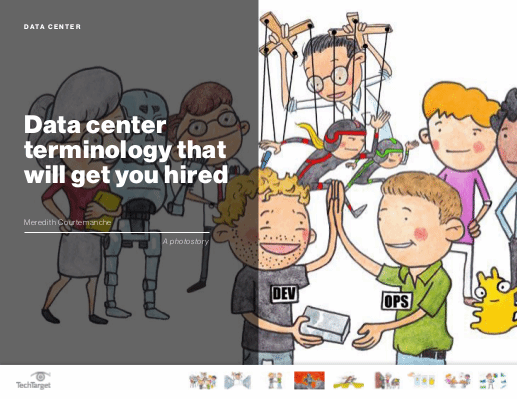 Download: Data center terminology that will get you hired
When it comes to data center job interviews, rattling off common DevOps and automation terms won't get you far – you must establish your knowledge of IT infrastructure scalability and resiliency, as well as culture and business to really impress. Download this COMPLIMENTARY Data Center Terminology guide to learn how to ace your next interview.
By submitting your email address, you agree to receive emails regarding relevant topic offers from TechTarget and its partners. You can withdraw your consent at any time. Contact TechTarget at 275 Grove Street, Newton, MA.
You also agree that your personal information may be transferred and processed in the United States, and that you have read and agree to the Terms of Use and the Privacy Policy.

The term apparently originated prior to electric lighting when one candle-power was said to be the level of light below which a clerk would begin to grumble about the difficulty of reading. The grumble line was the line in the room beyond which there was insufficient light, or in another version, a line halfway across a room within which a reader could read without complaint or else an interfering barrier would have to be removed.
Rights to light in buildings date to the Roman era, when many houses and apartments had solaria both for heat and light. Although English common law supports the concept, U.S. law has tended to give precedence to the right of landowners to build without regard for adjacent property's access to light. With the advent of solar-heated buildings, courts have become more open to the rights to light and other solar rays.
In the U.K., light entitlement was defined in the Prescription Act of 1832, called "Ancient Lights" or "Rights to Light." This law applies to windows that have been in use for over 20 years. More recently, English courts have specified the grumble line as the line that traces out the 0.2% skylight factor on a surface 850mm above floor level in a room. A grumble line is calculated before and after building construction. If the line calculated after construction infringes on the rights to light, the owner of the building may sue for an injunction to stop building or for compensation. Development planners in the U.K. often work under local guidelines that require much more light than the courts would require under the "rights to light" law.
Dig Deeper on Server hardware strategy
PRO+
Content
Find more PRO+ content and other member only offers, here.