Essential Guide
Keep your server sharp and upgrade memory techniques
A comprehensive collection of articles, videos and more, hand-picked by our editors
PCI Express (PCIe or PCI-E)
PCI Express (PCIe or PCI-E) is a high speed expansion card format that connects a computer with its attached peripherals. PCI Express was developed by Intel Corp. in 2004 to replace the peripheral component interconnect (PCI) and PCI-X expansion buses, along with the accelerated graphics port (AGP) graphics card interface. (Continued...)
FROM THE ESSENTIAL GUIDE:
PCI Express (PCIe or PCI-E) is a high-speed expansion card format that connects a computer with its attached peripherals. PCI Express was developed by Intel Corp. in 2004 to replace the peripheral component interconnect (PCI) and PCI-X expansion buses, along with the accelerated graphics port (AGP) graphics card interface. PCI-E allows data center managers to take advantage of networking technologies like Gigabit Ethernet, RAID and Infiniband.
IT Acronyms - A Quick Reference Guide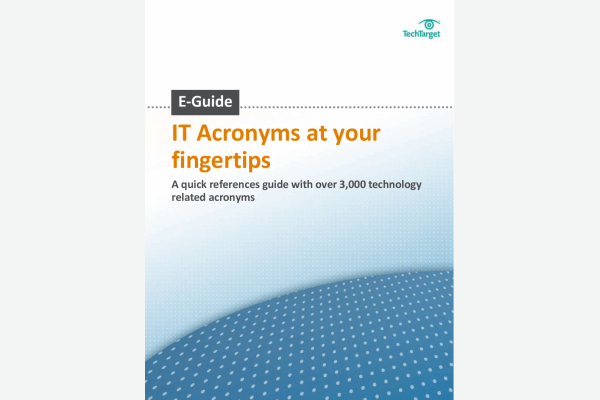 Download this free quick reference guide with over 3,000 IT acronyms; including a special section of the top 15 acronyms you need to know today.
By submitting your personal information, you agree to receive emails regarding relevant products and special offers from TechTarget and its partners. You also agree that your personal information may be transferred and processed in the United States, and that you have read and agree to the Terms of Use and the Privacy Policy.

PCI Express is a serial interface format, unlike PCI and PCI-X, which are parallel formats. Every device connected to a motherboard using PCI-E has its own dedicated point-to-point connection. Each of these connections is called a "lane" and is controlled by a switch. As a result of this architecture, connected devices don't have to share bandwidth passing through a single bus, as they would using PCI. This in turn enables more scalable performance, lower latency and higher data transfer rates. Condensing many parallel buses to one serial connection saves physical space on the back of servers and workstations, crucial where rack space is at a premium. PCI-E also allows hot plugging and hot swapping.
PCI-E does not require any changes to software or operating systems, as the identification of devices attached to a PC is determined by the same protocol used by PCI. This software compatibility is not, however, matched by backwards-compatible hardware. PCI-E plugs are either shorter or longer than wide PCI and AGP connectors. The interface does allow different sizes of PCI-E cards to be used, as smaller cards can be plugged into larger slots with no issue. PCI-E's low-voltage I/O also requires fewer pins than other PCI buses, which minimizes costs given that fewer wires must be routed on the motherboard.
External PCI Express, in which the interface is housed outside of a PC, was introduced in 2007. When combined with externally-housed graphic cards, External PCI-E allows users to drive monitors that would normally be beyond the capabilities of a given laptop.
Continue Reading About PCI Express (PCIe or PCI-E)