Open Blueprint definition
Open Blueprint is IBM's strategic view of the network computing services and the relationship between these services. IBM offers an Open Blueprint home page that includes a picture of the strategy and its layered components.
5 Steps Data Center Admins Can Take to Support Big Data Initiatives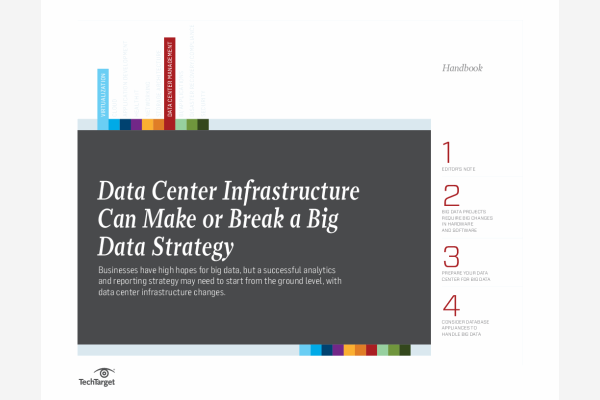 When it comes to Big Data, there is no cure-all or singular approach that allows for organizations to find value in the staggering volume of data being collected. As such, our team of editors present this guide as a means of helping you to determine how you plan on using and analyzing big data - and on selecting the appropriate infrastructure components to support those efforts.
By submitting your email address, you agree to receive emails regarding relevant topic offers from TechTarget and its partners. You can withdraw your consent at any time. Contact TechTarget at 275 Grove Street, Newton, MA.
You also agree that your personal information may be transferred and processed in the United States, and that you have read and agree to the Terms of Use and the Privacy Policy.

The Open Blueprint is consistent with and perhaps aware of the X/Open Architectural Framework (XAF), which is a statement of what should be in a comprehensive network computing model.
Built on top of an operating system (and using its core services), according to the Open Blueprint, are these layers and component technologies (our description does not show relationships as well as the figure version does):
Top Layer
Applications and Development Tools
These would include off-the-shelf application programs and customer-developed applications along with the development tools used to build them.
Presentation Services
These include interfaces to interactive users and printers. User interfaces include display technology and multimedia.
Application/Workgroup Services
These services include: a transaction monitor, event services, compound document support, workflow tools such as Lotus, mail, collaborative groupware, computer Telephony, and online reference libraries.
Data Access Services
These include support for relational databases, hierarchical databases, object-oriented databases, persistence, legacy files, and storage management.
Middle Layer
Communication Services
These include the three main models of program-to-program communication across a network: conversational, remote procedure call, and messaging and queueing.
Object Management Services
These include: the Object Request Broker, life cycle, and externalization.
Distribution Services
These services make it possible to support the distribution of applications and data in a network: directory (what is located where), time (coordinating locations), security, and a transaction manager.
Bottom Layer
Common Transport Semantics
This component frees the upper layers from having to be concerned about the services used to move information across the network.
Transport Services
These include: Systems Network Architecture, TCP/IP, APPN, OSI, NETBIOS, and IPX.
Transmission Technologies
These include: local area network, wide area network, local channel, and asynchronous transfer mode.
Physical Network and Signalling and Control Plane
These components include the detailed hardware mechanisms involved in moving information across the network.
PRO+
Content
Find more PRO+ content and other member only offers, here.