modular datacenter definition
mSun Microsystems' Modular Datacenter (known as "Project Blackbox" in the prototype phase) is a mobile and virtualized data center packaged in a standard 20-foot shipping container.
5 Steps Data Center Admins Can Take to Support Big Data Initiatives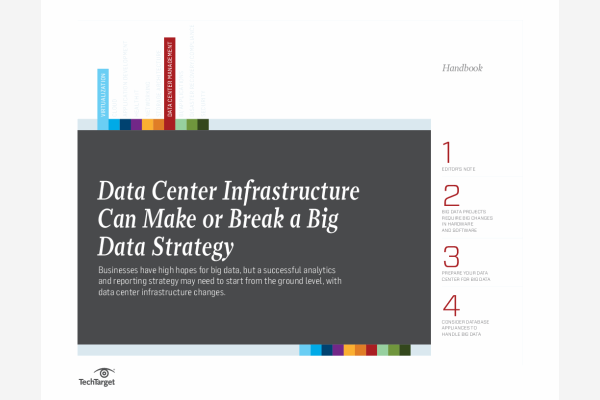 When it comes to Big Data, there is no cure-all or singular approach that allows for organizations to find value in the staggering volume of data being collected. As such, our team of editors present this guide as a means of helping you to determine how you plan on using and analyzing big data - and on selecting the appropriate infrastructure components to support those efforts.
By submitting your email address, you agree to receive emails regarding relevant topic offers from TechTarget and its partners. You can withdraw your consent at any time. Contact TechTarget at 275 Grove Street, Newton, MA.
You also agree that your personal information may be transferred and processed in the United States, and that you have read and agree to the Terms of Use and the Privacy Policy.

The Modular Datacenter (MD) was designed for rapid deployment, energy efficiency and computing density. It can be shipped to anywhere in the world and set up anywhere that has water and power sources, an Internet connection and an external chiller. The target market is overcrowded datacenter owners and those in need of massive mobile computing power, such as emergency relief organizations, the military, Web 2.0 providers, government, physics labs, financial institutions and disaster recovery providers.
In October 2007 Sun announced that their prototype could hold configurations placing it in the top 200 fastest supercomputers globally. In January 2008, Modular Datacenter S20 was released with computing power of 18 teraflops and a hard disk storage capacity of three petabytes. In contrast to building a typical data center of equivalent power, Sun's Modular Datacenter offers:
10 times faster deployment
the flexibility to easily redeploy in another area
1/100th the initial cost outlay
one-fifth the cost per square foot
the capacity for incremental upgrades
four times greater density per rack
40 percent lower cooling costs.
MD uses built-in closed loop liquid cooling and continuous directional air flow. The data center walls are essentially giant heat sinks. The unit has the ability to withstand external environmental temperatures between -29 to 54 degrees Celsius. When the data center construction was tested on an earthquake simulator, at 6.7 on the Richter scale, there was some damage to an air grille and disconnected power cables but the unit was easily put back into commission.
The Modular Datacenter is RoHS-compliant. According to Sun's eWaste reduction initiative for the product, the company will take back any MD and reuse or recycle the container and contents if possible or dispose of them in an environmentally responsible manner otherwise.
As of February 2008, a bare-bones MD S20 (with modified storage container, closed loop liquid cooling system, empty server and storage racks and dehumidifiers) was priced at $559,000 (USD).
Continue Reading About modular datacenter
PRO+
Content
Find more PRO+ content and other member only offers, here.