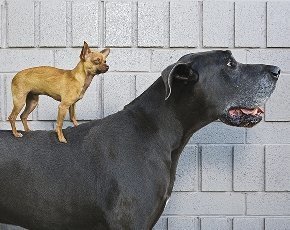 Are you big enough to take advantage of DCIM or virtualization for the power and cost savings? When it comes to certain moves, size is an advantage.

MORE HIGHLIGHTS

Stay connected on trending IT topics on Twitter and Tumblr. Follow these seven experts who express news, opinions in data center blogs.

Facebook's North Carolina data center is warm and humid, which is fine for the thousands of OCP servers working there. Check out the exclusive video.

Graph databases play six degrees of separation to find real connections. See how IT teams can use the database approach for businesses.

Let automation be your guide -- as long as it doesn't lead you into a major outage and uncontrolled IT sprawl.
Email Alerts
Register now to receive SearchDataCenter.com-related news, tips and more, delivered to your inbox.
By submitting you agree to receive email from TechTarget and its partners. If you reside outside of the United States, you consent to having your personal data transferred to and processed in the United States.
Privacy
TOOLS OF THE TRADE
Applications don't run in a vacuum. Operations -- the last step of app development and maintenance -- actually belongs in every stage of the cycle.
Essential Guide

With several updates to supported Linux OSes, how do you know which to run in your data center? This guide will help you make an informed decision.

E-zine

Application performance management is taking advantage of open APIs and software as a service to focus on the end-user experience.
The IT team never really gets a break — it's the first week of July and everyone else is taking a long weekend, but you're on call, minding the beeps and flashes of some uncaring, disinterested servers. While the storage array quietly dedupes its backups, take a little downtime with data ...

More blog posts
Options for building a data center quickly